Will I need labor to set-up my booth?
Exhibitors are required to comply with local union jurisdictions. In most cities, exhibitors are allowed to set their own displays provided that the booth is 10x20 or smaller, the work is performed by full-time employees of the exhibiting company, set-up requires no more than two employees working one hour or less and requires no tools. Please refer to exhibitor guidelines for booth installation and dismantle.
Is material handling included in the cost to ship my freight?
No, material handling is not associated with the shipping of your material. You must send your freight bill-of-lading pre-paid.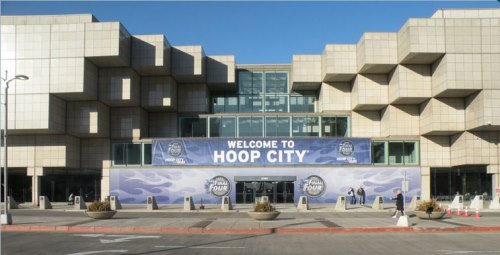 Is there a specific carrier I should use to ship my material?
Exhibitors are free to use whatever carrier they like. We do provide a house carrier for your convenience at show site to assist you with outbound shipping.
How do I prepare for outbound shipping at the close of the show?
Once you receive and pay your final invoice at show site, you can pick-up a bill of lading at the service desk. Each shipment should have a bill of lading, providing us with information on where and how you're shipping your freight. If you choose to use a carrier other than the house carrier, you must call them and schedule the pick-up.
Should I ship to the advance warehouse or directly to show site?
If your freight is ready now, shipping to the Advance Warehouse is suggested. By shipping to the Advance Warehouse you are able to track and ensure that your freight has been received, with time to double-check. Also, it will be in place when you arrive for set-up. If your freight is sent directly to show site, your delivery time is controlled by the carrier.
What are material handling/drayage charges? Do I get charged again to ship out?
Material Handling fees are charged for the receiving, storing and reloading of materials to and from the booth space before and after the show. This is a one-time fee per shipment received, regardless of the move in or move out.
If I ship to show site, when can it arrive?
When shipping to Show site, your freight may only arrive during the scheduled times of exhibitor move in.
If I ship to advance warehouse, when can it arrive?
When shipping to the Advance Warehouse, your freight may arrive up to 30 days prior to the show dates.
What furnishings are provided with my booth space?
If any furnishings are included with your booth space they will be listed on our cover page.
Can I substitute a table that is included with the booth space?
No, there are no substitutions for any furniture. If you need an item that is not listed in the booth package, you must order that item separately.
Can I order at show site?
Yes, floor orders are accepted at show site. Remember that payment must be received before any furnishings or services will be rendered. Also, choice of items or colors may be limited on site.
What if certain items I ordered are not in my booth when I get there?
All items ordered in advance of the show should be in your booth space at the beginning of exhibitor move-in with the exception of chairs and wastebaskets. These items have a tendency to "grow legs" and are not dispersed until close to show time. If other furnishings (carpet, tables) are not in your booth at the time of your arrival, please go to the Convention and Show Services Service Desk and the problem will be resolved immediately.
What size carpet should I order for my booth?
The carpet should match the size of your booth. Traditionally, carpet is cut in 9' rolls, so carpet sizes come in 9'x10', 9'x20' or 9'X30' increments. A 9'X10' carpet will accommodate a 10'x10' booth. If you have an island space or a booth that is not a standard size CSS can provide special carpet sizes that are individually cut to match the size you request.
Do I have to order labor to install the carpet I order?
Labor is included in the rental price of the carpet.
Do I have to pay in advance for services or can I bring a check to the show?
Full payment must be received for services requested before the order will be processed. If you choose to pay by check, a credit card must still be on file.
What if I overestimated freight handling charges or cancel items and am due a refund from earlier payment?
If an exhibitor over estimates and a refund is required, the refund will be processed after the close of the show.
How will my booth ID sign read?
Your booth ID sign will have your company name and booth number on it. The name is based on how you registered with show management.